Vermont Studio Center: England Brothers
This is a true story about the small world we live in, about memory, family, roots, and the power of art.
It started around the breakfast table at the Vermont Studio Center. My friend Peggy Sapphire and I discovered our mutual connnection to the city of Pittsfield, Massachusetts. I was born there, she had visited it as a child, and she excitedly leaned over to tell me about her great affection for it.
This has never happened before, so first, a word about my birthplace and my somewhat complicated relationship to it. When people ask where I'm from, there's a slight mental pause on my part before I say I'm originally from Massachusetts. Not "Pittsfield", just "Massachusetts". I was born in Pittsfield, it's what my passport says, yet I only lived there until I was four or five, and my memories are hazy at best. I remember in glimpses: our street, walking to the Dairy Queen after dinner, the smell of a bakery with turquoise trim and shiny glass cases with revolving cakes, seeing the huge dragonfies at Onota Lake, looking at Queen Anne's Lace along the side of a road while on a walk with my aunt Anne, and a bright pink stucco church which seemed out of place in New England–but fascinating because of it–even to a four-year old.
We left Pittsfield for another town in Massachusetts, of which I have stronger memories because I was older. But I don't say "I'm from Sterling" because my connection there seems tenuous as well: we kids were forbidden to develop the local accent, and we moved out of the state entirely in four more years, to a town in Connecticut on the Massachusetts border. My roots do feel as if they are planted somewhere in Massachusetts; I never, ever lay claim to being "from" Connecticut, even though that's where I spent most of my childhood, and it's where my parents still live, thirty years later.
Besides my lack of strong memories, the other disconnect to my birthplace is that my parents' glowing descriptions of Pittsfield absolutely do not match up with what my own eyes told me about the place when we returned as visitors for family events.
Pittsfield is like many New England towns that thrived along an industry (for some, it was a mill; in our case, it was General Electric) then crashed when the industry left. Many of these towns, like Pittsfield, are still trying to get back on their feet.
When my parents grew up there in the 1940s and 50s and returned after college in the 1960s, GE was headquartered there and Pittsfield was hot. My parents told tales of excitement along North Street, of happy people socializing in a vibrant downtown, of summer vacations, from that era.
When we returned for family occasions in the 70s and 80s and less and less as time went on, I saw abandoned buildings, some with plywood for windows, some blackened by fire. There weren't many people on the sidewalks that I recall, but the ones I saw seemed to shuffle around unhappily. I saw broken windows, empty warehouses, ugly industrial spaces with too many wires overhead. Nothing felt nice. No additional pleasant memories related to the city itself were planted alongside the old glimpses I'd retained.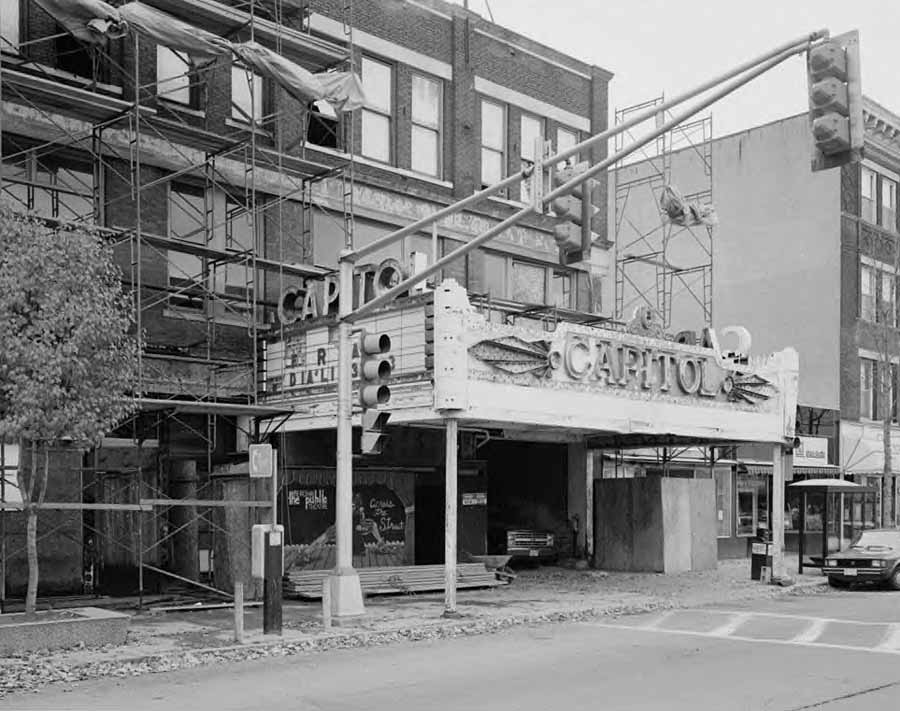 It seemed impossible that just a few short years earlier, this had been a fun-loving utopia for my parents. Their stories, unfailingly and glowingly complimentary to Pittsfield, took on the air of hyperbole, even propaganda, over the years because of this disconnect. My sister, brother and I (the ones closest in age to me were born there too; the youngest two were born in Connecticut and have even less connection there) couldn't understand the old Pittsfield, their Pittsfield. We sometimes teased them for creating a fantasyland that didn't match up with the current reality, one that didn't seem like it ever could have. Once, when we wanted to make it sting, we said we knew the river had caught on fire from all the chemicals GE had dumped in it. My mother maintained it didn't happen; I don't think my father had an answer for that.
I don't remember my parents ever acknowledging the existence of the newer version of Pittsfield, one where the river caught on fire, where people were out of work, where kids my age battled cancer they'd gotten playing in contaminated yards. My sister, brother and I denied the existence of their version because we couldn't believe their stories when our own eyes told us differently, and my parents denied the existence of the contemporary version, maybe also because the difference was too jarring.
I will admit that looking out the car window a couple of times a year is not the best way to judge the city. Given the stress of major holidays, the travel, the vigorous fighting that would likely have been occurring in the back seat, the steamed windows from too many people being in the car for too long, my father's violent sneezing on the way home because of my aunt's cats, Pittsfield probably never had a chance from this vantage point.
If you were to Google Pittsfield, you'd see that it has received more than a few votes for "Worst City" in the US, with some bloggers outdoing themselves to put it down. There's no denying that there are alot of things to say along these lines.
So it's in this context that my friend Peggy began to excitedly talk to me about Pittsfield. She'd gone there as a child in the early 1950s and spent a couple of summers at Buckley Farm, down a dirt road in Lanesboro. She was a city girl, a New Yorker, going to visit the countryside with her brother, without her parents.
I wished I could have said Oh sure, Buckley Farm, but I didn't know it, not even from my parents' stories.
She went on to say that she'd written a poem about Pittsfield, specifically about England Brothers' Department Store. I remembered England Brothers from driving by, and also because one of my uncle's very best friends was a direct descendent from the original England Brothers. I didn't know her well because my uncle moved away for college and never moved back East, but her name was always present in family lore. England Brothers also appeared in many of my parents' stories, as a prominent landmark by which other locations were described, and also as a backdrop for other activities since everyone seemed to meet there.
Peggy promised to send me the poem. As it turned out, the occasion for writing it was the demolition of England Brothers in the late 1990s.
Her poem was beautiful, a tribute to early years and adventures, well before Pittsfield's downturn. I learned about England Brothers in detail for the first time, and I hadn't realized how hungry I had been for the information. In my parents' stories, it had merely been a shorthand notation: they'd never described it because they didn't have to; everyone knew England Brothers.
The poem also named several of Peggy's friends and acquaintances from those summers, and one name caught my attention: Inez. There was an Inez (pronounced I-nus by our family) who was my grandmother's best friend. I don't remember my grandmother because she died when I was a year old, but Inez, no last name needed, was a familiar character in the family stories, just like England Brothers. In the poem, Inez also didn't have a last name and therefore couldn't be immediately identified. Peggy and I wondered if they could be the same person. After all, how many women named Inez could have lived in Pittsfield, Massachusetts at that time?
I sent the poem to my mom, her twin sister, and my uncle. I also asked if Peggy's Inez could be "our" Inez. To clear up that mystery, it was generally agreed that there must have been another Inez in Pittsfield, based partly on the fact that "our" Inez wouldn't have inspected anyone's hands before dinner, as Peggy had written. The other responses were immediate, enthusiastic and grateful: memories of the sprawling system of overhead tubes which was used as a delivery system in the store, along with blueberry picking at Mickle's Grove and a place called "blueberry mountain", my grandmother's blueberry pies, were shared and elaborated upon. I learned more about myself: that all of my baby clothes were from England Brothers; it was where I went to visit Santa for the first time. My uncle's friend weighed in from Oregon to say how proud and touched she was to hear of the prominent place her family's store held in so many lives and memories.
I shared my family's excited memories with Peggy. With each new email, she was more delighted. We convened over meals, telling the story with its latest chapter to whomever happened to be sitting nearby. Peggy always thanked me again for sharing my family history (such as it was, imperfectly remembered by me) and embellished the poem with additional memories:
…the beautiful scarves on display at England Brothers
…bringing lunch, consisting of a couple of sandwiches, and sitting down among the cow patties to eat them. In response to several wrinkled noses, Peggy chuckled deep in her throat and exclaimed: "They smelled sweet, what did I know, I was from New York!"
…running along the lane to deliver news of a baby's birth, and feeling the importance attached to that responsibility, as well as the intimacy it conveyed. She was now one of them.
One morning she asked if I'd been born in the local hospital. Yes, Berkshire Medical Center, I said. This was a fact that I knew, a detail regarding my hometown about which I could be firm. Peggy recounted how her brother had once gotten his foot sliced in a hay baler or some type of farm equipment. No one had remembered to warn the city boy to beware the sweeping blade and his foot was injured quite badly. After describing the injuries and treatment at the hospital, Peggy nodded and said with quiet appreciation, They took good care of him.
You know, I was only the third baby whose father was allowed in the delivery room, I offered. We had both been treated well there.
These stories, these snippets of real information, made Pittsfield seem more alive and maybe even likable to me. I could finally begin to understand, through Peggy's affection for it, and the round-robin comments via email, the affection that my parents had felt, that many had obviously felt. I could sense this affection, and Pittsfield itself, weave a bit more into the fabric of my own past.
It was during this conversation that I started crying at breakfast, a quiet but persistent reddening of the eyes and tip of my nose, and welling of tears around the rims and lashes. I felt overwhelmed by these connections to my family: picturing my mom, pregnant with me, shopping for my baby clothes on her lunch break, picturing a tiny baby me, sitting on Santa's lap. Picturing my dad, my aunts and uncles, my grandparents, Inez popping into England Brothers for some necessity, going past the Ladies Department, stepping on the creaky floorboards, looking up at the tubing system zipping along, saying hello to all the other neighbors and family who had likewise stopped in. I felt indescribably close to my family, engaged as we all were, from different parts of the country, in reading this love poem to Pittsfield, appreciating it, allowing it to spark deep memories and feelings, circulating it to others and then reporting back again.
It is a gift, Peggy said, with quiet emphasis on each word. It is a gift to be able to be brought into your family like this. It's very rare for a writer to hear how her words are received.
Peggy, the gift is mutual.
Peggy's Sapphire's poem is included here with her gracious permission. Please visit her website to learn more about her and her writing.
England Brothers

England Brothers Department Store under the wrecker's ball.
Main Street, wide with maples and hanging petunias.
England Brothers under the wrecker's ball,
two-story wood and brick since 1857.

Lulu, wherever you are, do you remember
the day you took me there? Pittsfield, Massachussetts,
your birthtown, your Main Street, your England Brothers,
your mama's and
your mama's mama's.

Dark wood floors, old bones creaking under me that day,
the New York City kid, up a dirt road for two weeks
on your grandpa's dairy farm, your grandma's kitchen.
Zeke washing up sudsy at the kitchen sink.
Inez checking my hands for washable dirt. Their round dining table
with room for everyone, including me, plenty for all of us,
brown gravy, sliced roast beef with juices running over,
cream from the barn and a million fresh blueberries
for dessert, remember Lulu? Didn't matter the best bushes were
found near sweet smelling cow pies.

England Brothers under the wrecker's ball,
vacuum tubes carrying messages and money
in a loud whisper from the small office upstairs, to the beautiful sales ladies
standing behind glass cases with mahogany trim, selling scarves
and linen hankies, silk slips and sachet bags. Upstairs the piles
of Hudson Bay blankets, softest wool I ever touched,
making believe we have to choose between strawberry red
with buttercup yellow, or milk white with new-grass green.

Lulu, best friend in the summer of 1951, the fattest girl I knew.
I walked ahead pretending we weren't together. I'm sorry.
I thought I was beautiful that summer, first time in my life. It was
your cousin George, my pioneer boyfriend, his farmer hands clumsily
up my blouse where none had gone before, whose image
consumed me with hungers I couldn't name.

England Brothers under the wrecker's ball.
Today's photo in the paper, five decades later.
Is that you, Lulu, buying the last
of the porcelain tea cups and gilded saucers?

I'll gladly walk with you, Lulu
side by side, arm in arm. Wait for me, we'll
show them all how we push open the double-doors of
heavy oak with the solid brass hinges and
promenade into the cool air of the Ladies Department.

England Brothers forever.
Peggy's poem was originally published in The Country and Abroad.
For more information on Dave Nelson's paintings, pictured above, go to www.dnelsondesign.com/paintings.